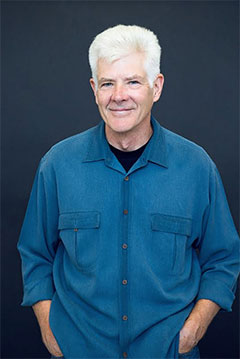 I studied acting at UC Berkeley and Neighborhood Playhouse School of New York City, later performing with Riverside Shakespeare Company and on various television soap operas, the deadly nature of which you may partially credit for a felicitous career change.. Moonlighting as a stage carpenter, I learned about The Woodsmith's Studio, and had a first (and fatal to my theatrical ambitions) taste of furniture making. I was fortunate to secure an apprenticeship with Sr. Juan Pomes, a Catalan cabinetmaker in Greenwich Village. After my time with Juan, I moved back to California in 1980 to study at the California College of Arts and Crafts, then worked in Bay Area cabinet shops before going into business for myself in 1983. I'm the proud father of Ashley and Nicole, and the fortunate partner of Laurie, who has an active hand in both the creative and administrative areas of Kent Odell Furniture. Consuming though my craft is (ask Laurie!), I also enjoy cycling, cooking, brewing, and playing music. And I'm building a café racer; I'll sleep in the grave.
Works shown at the:
Sonoma County Museum. Sonoma, CA
Arts Benicia Gallery. Benicia, CA
Kaiser Center Art Gallery. Oakland, CA
Norman Petersen Gallery. San Francisco, CA
California Contract Center. San Francisco, CA
Works featured in the "Custom Furniture Source Book" by Taunton Press.
Fine custom wood cabinets, desks and offices, tables, seating, dining rooms, sideboards, buffets, chairs, beds and dressers, built-ins, bookcases, doors, mantles, jewelry boxes, toys, accessories, lamps, clocks, wood sculpture.